Accueil

International
Student life in UTT
There are many activities in which students can participate at UTT. Student life is really rich!

Sport
Sports play an important part of the students' life. Students wishing to take part can subscribe to the sports union upon arrival (25€/ 1 semester – 50€ / 1 year - as for Sept 2019).
There are more than
40 sporting activities
on offer: Basketball, Futsal, Rugby, Ultimate, Athletics, Badminton, Equestrianism, Judo, Handball, Volleyball, Water polo, Rowing, Boxing and many others...
To practice sport in UTT, any students have to sumit a
medical certificate
filled by a doctor in France.
More information here
Troyes and the 2024 Olympics
The city of Troyes and the Aube county are certified "Terre de Jeux 2024" (Land for Games 2024) and "Centre de préparation aux jeux" (Preparation center of games), as the 2024 Paris Olympics are coming.
Those certifications for Troyes and the Aube to develop new infrastructures. Local governments invested in brand new buildings, like a sports hall or a climbing wall, and renovated old ones in Troyes.
Furthermore, sporting events are going to be organized all around the city and the county to promote different sports.
The Aube county will even welcome international sports delegations, which means that international athletes will train all around the county in 2024.
Therefore, Troyes is not lagging behind! The city gives its best to welcome visitors and athletes in the best way possible. The infrastructures built within the city and renovated for the Olympics will benefit to the local population, even passed 2024. To finish, we should keep in mind that Troyes' proximity with Paris will allow its inhabitants to attend the different events and competitions organized within the capital.
We hope to live those Olympics with you soon!
There are over
30 clubs and associations
that bring vitality to the campus. Among them:
The Students' Union (BDE) acts as a catalyst for all the associations. It coordinates most extra-curricular activities: clubs and associations' projects, parties and trips. It is also the students' representative body for the university administration: bde@utt.fr (*To join this association students have to pay for a subscription: 30€/year and 20€/semester - as for Sept 2018).
Interlink (International Students Association) participates actively in the reception of foreign students. Its main objective is to facilitate the students' integration in the university, in the city and in France. Throughout the year, it organizes several activities (cultural, artistic, sports…).
More details on the "International Students Guide"
Students have several
options to eat nearby UTT
. Many restaurants offer
cheap and healthy meals
.
The "Restaurant Universitaire"
Commonly named "RU", this is a university canteen serving cheap and hot meals (2 minutes' walk from UTT).
Opening hours: from Monday to Friday from 11:30am to 1:30pm and from 7:00pm to 8:15pm (closed during holidays).
One meal costs 3,25 € (payable by cash or with the UTT student's card- IZLY).
The UTT brasserie
Located inside UTT (next to the reception desk).
Opening hours: from Monday to Friday from 7:30am to 6:30pm.
Students can pay by cash, bankcard or with the UTT student's card - IZLY.
There are
many other restaurants in the UTT surroundings
such like a Vietnamese restaurant, a Kebab restaurant, fast food restaurants, bakeries… but also many supermarkets.
More details on the "International Students Guide"
The Library
The library of UTT offers
individual and group working areas
and many
databases
(newspapers, books, numerical databases) to study and to entertain. Students can also borrow computing equipment.
It is open from Monday to Friday from
8:00am to 10:00 pm
and on Saturday from 9:00 am from 12:00 pm.
More information here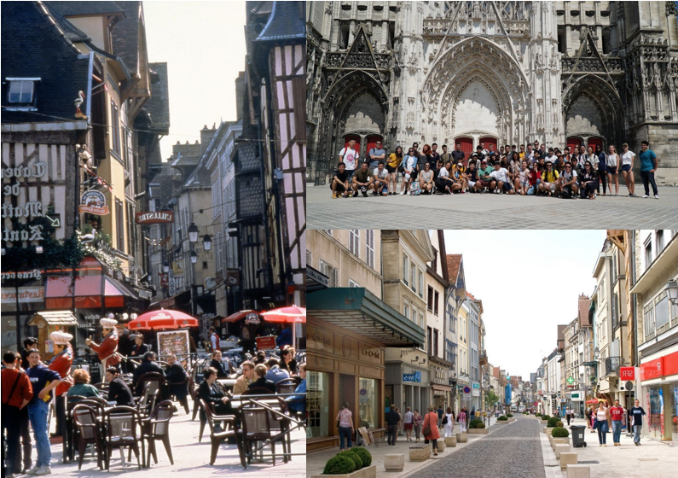 During the inter-semester period, the International Center organizes
activities
for the students :
Visit of the City center of Troyes.
Dinners to discover the French food.
Visit of the region.
More information here
The Buddy System
The Buddy System is dedicated to international students who will have the opportunity to develop a relationship, interact with UTT students.
Buddy Mentors are local students who have volunteered to help international students, especially at the beginning of the semester.
Your buddy will help you:
discover aspects of french culture
fulfill administrative tasks you may face, such as getting a french phone number, opening a bank account etc.
might also invite you to his/her parties or outings. If you accept these invitations, it is a great way to meet other local students.
Show you UTT, the campus, the faculty and other students' services (the International Office, Students' office (BDE), the registrar office, the sports hall, etc.).
Accompany you to events especially designed for international students
help you in your classes and explain the UTT courses' system.
And answer all your questions!
The Buddy coordinator will introduce you to your buddy in advance by email. A meeting is organized between buddies and referred friends at the start of each semester.
Questions?
Buddy coordinator: Emilie RICHARD (on maternity leave until summer 2022)
Incoming student office (building K008)
emilie.richard@utt.fr
Replacing Buddy coordinator: Marie BONNETÊTE
Incoming student office (building K008)
marie.bonnetete@utt.fr

Fresher's week in early September
The
student union (BDE)
organizes many activities during
fresher's week
to welcome new students and allow them to get to know their
environment
and
make friends
(visits, weekend, city rally, etc.).
International presentations
Every Thursdays during the semester, international students are asked to present their countries and their universities to outgoing students.
International days at UTT
Every semester, the International Center organizes a
Study Abroad Fair
during which international students have booths and materials from partner universities to present their home university to the students of the UTT.
Many
shows
,
photos exposition
,
conferences
are organized every year by different clubs and associations.